"The Lord will not abandon his people" Psalm 94:14
Our God is faithful. He will not abandon us.
God provided for us a beautiful family to stay with in Lafayette for Sunday evening after the Conference. We met them very last minute. I was a cranky that morning as I didn't know what were were doing for the afternoon/evening. Then here we are at a really holy family's house!
When leaving Gregg and Courtney's house, our Father gave us a beautiful sign of His faithfulness as a complete rainbow crossed the sky. This is the image we took (above).
All we knew last Monday October 26th was that we were going to stay at Mr. Paul and Mrs. Marilyn's house indefinitely to discern. We met them at lunch on Saturday and they were inspired by Jesus to take us in for a time. We have been blessed by their warm hospitality.
This past week has been difficult as Jesus hasn't revealed our mission completely. Most of our mission opportunities in Lafayette were closed doors. I began to think, "Lord, what are you doing? Did we make a mistake?"
Yet, the Lord hasn't abandoned us. Every day since we left Brainerd He has allowed us to receive Him in Holy Communion (our spiritual nourishment). On Wednesday, Jesus, You invited us to stay with You in Adoration at the Community of Jesus Crucified. My heart entered this small chapel into His Presence in confusion, doubt, and despair.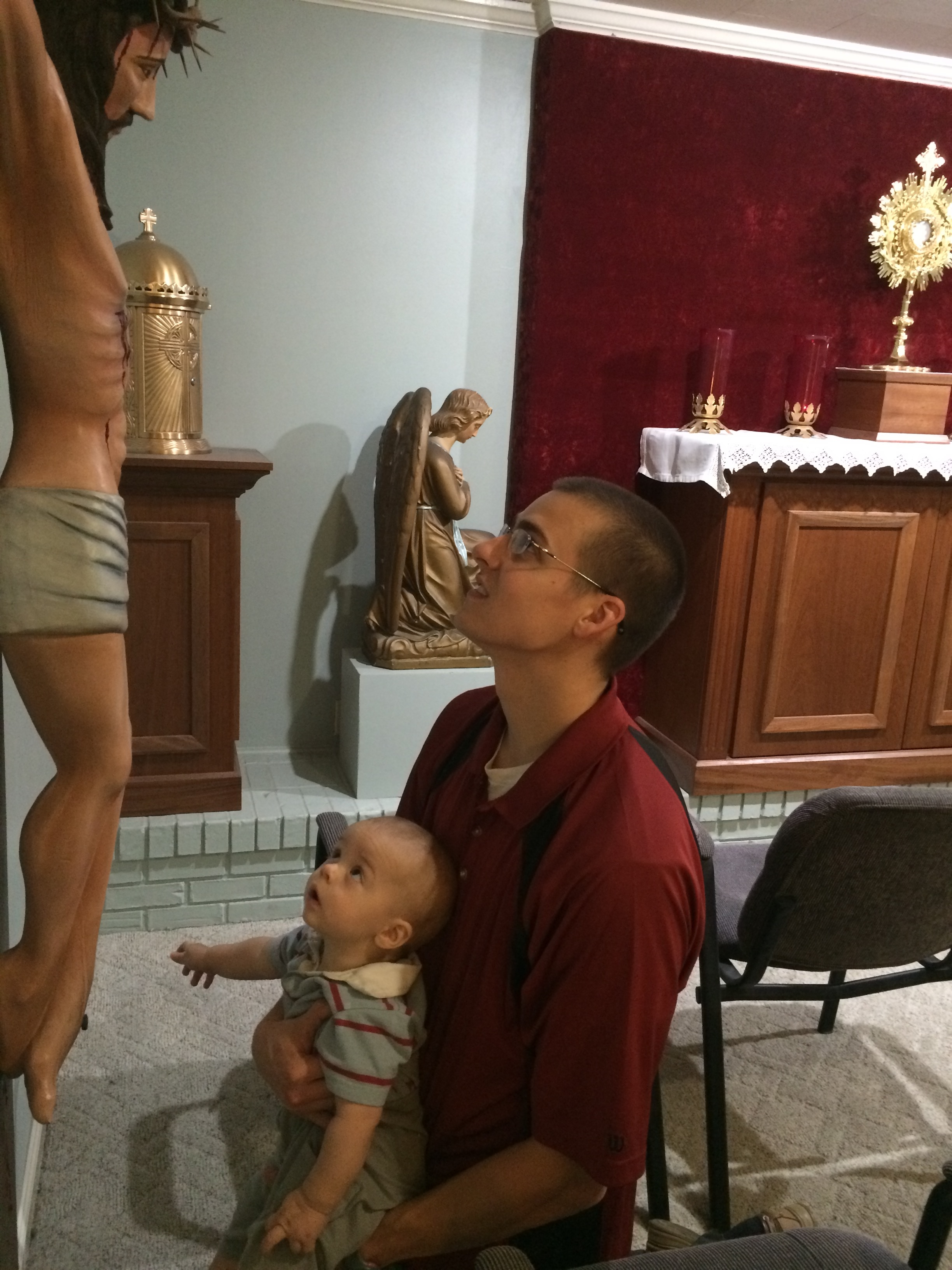 But as the Psalmist 94:19 a little further along, "When the cares of my heart are many, thy consolations cheer my soul."
On Thursday, we joined FMC (Family Mission Company) missionaries and a parish missionary to go door-to-door in a small town just to meet others and pray with them. Gloria, a mother of 3 girls and Baptist, lead us in her iphone reflection on John 10:10. "I came that they may have life, and have it abundantly." The reflection spoke to me that we aren't supposed to just survive, but be FULLY ALIVE.
We then met David, while praying our rosary, who talks to Jesus every night and knows some scripture, but struggles with the rosary being a form of prayer. Jesus spoke through him as he told us a story of his friend whose business was failing and asked the Lafayette Carmelite Sisters to pray for him. Shortly after, this man's business began doing so well that he couldn't deny it was by God's hand.
On Friday, we joined the MCs (Missionaries of Charity) sisters for morning Mass. We were surprised to see a sister we knew from St. Louis from last September! After hoping to serve with them, but finding out they don't run an apostolate at that house, we drove to the Carmel. I was able to write our petition for Jesus to guide and inspire us on paper and submit it.
The constant stirring in our hearts is to serve Jesus in a special way, close to His poor. Yet the details to that call are still unknown to us, but perfectly planned in the mind of God. We pray, trust, and seek out the open door.
"The Lord will not abandon his people" Psalm 94:14
Amen – Calena