"Jesus said to him, 'Zacchaeus, make haste and come down; for I must stay at your house today.' So he made haste and came down, and received him joyfully." Luke 19:5-6
We had a smooth drive from The Lord's Ranch to Phoenix this last Sunday. Jessie has received us generously and joyfully into her home that she rents from the parish here. It used to be a convent so there is an extra room, bathroom, and living room space. There is also a little chapel. Like the Zacchaeus she has received us, but unlike Zacchaeus she isn't a chief tax collector! Jesus depended upon the generosity of others for his material needs. Not because he was lazy and didn't want to work as a carpenter anymore, but because he was busy with His Father's business bringing the Kingdom of God to earth. The Father took care of His Son's needs through others.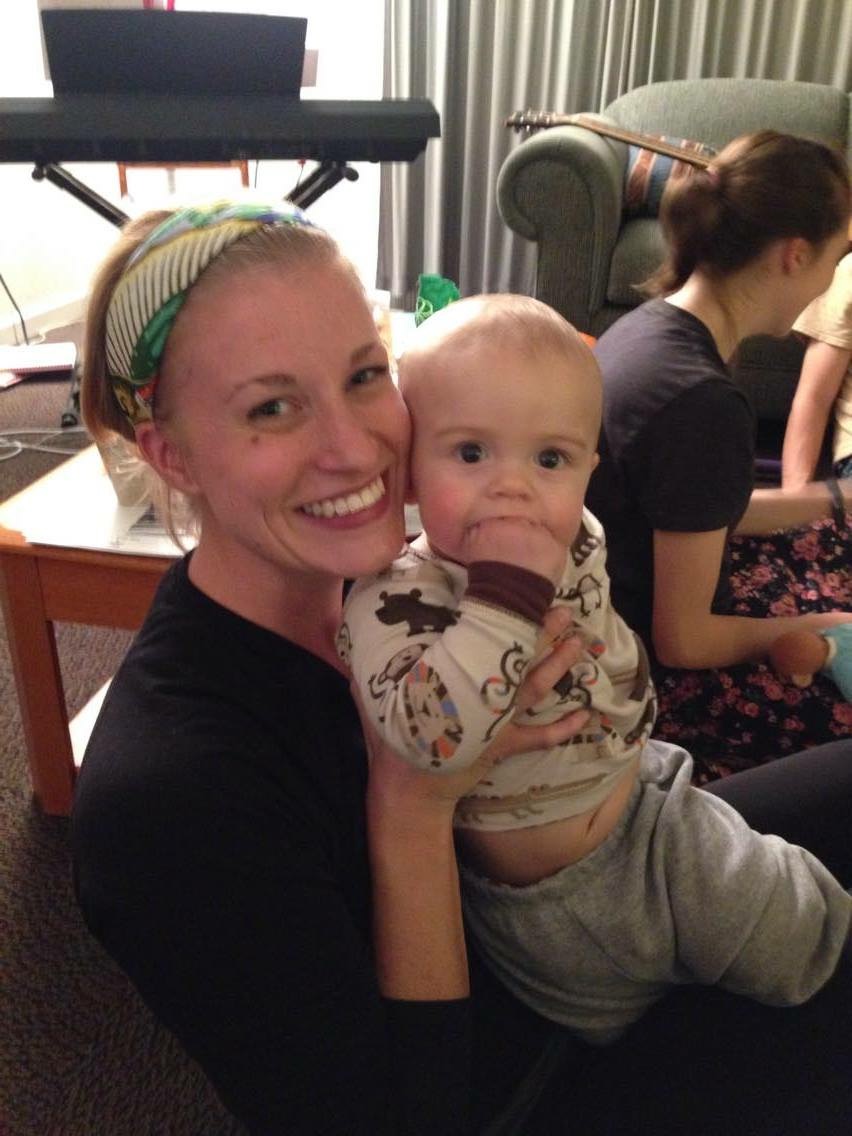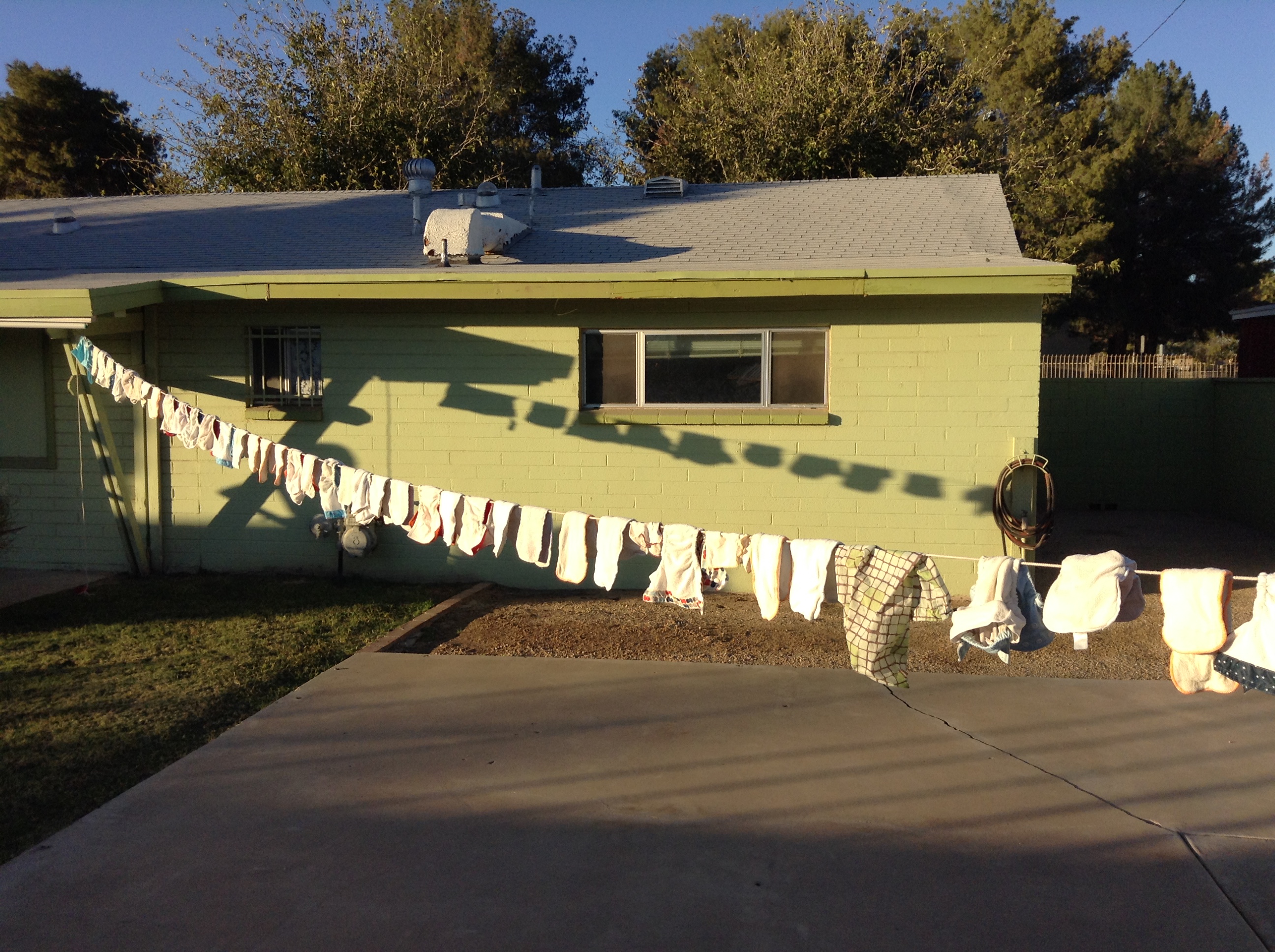 On Monday we settled in here, picked up groceries, went to morning Mass, and took a walk around a man made lake as the sun was setting. Thank you, Jesus.
On Tuesday we woke up early to join the Missionaries of Charity sisters for morning Mass. Sr. Sabina Grace confidently grabbed Blaise as she was walking out of the chapel and played with him for a bit. After Mass they invited us to eat and help clean the men's and women's shelter. After Sr. Bernadette Ann gave Blaise a little orange and Jacob took it so he wouldn't suck on the peel and get pesticides in his mouth, Blaise errupted in tears. He was overly tired and overly hungry. While Blaise napped, we cleaned and got to talk with the sisters.
We made a trip to the Diocesan offices of Phoenix and saw the Cathedral. Then we prayed our rosary and went out! We met a man named Earring and spoke with him for a while. He didn't need anything like money or food he told us. What he needed was normal human interaction. Someone to care what he has to say.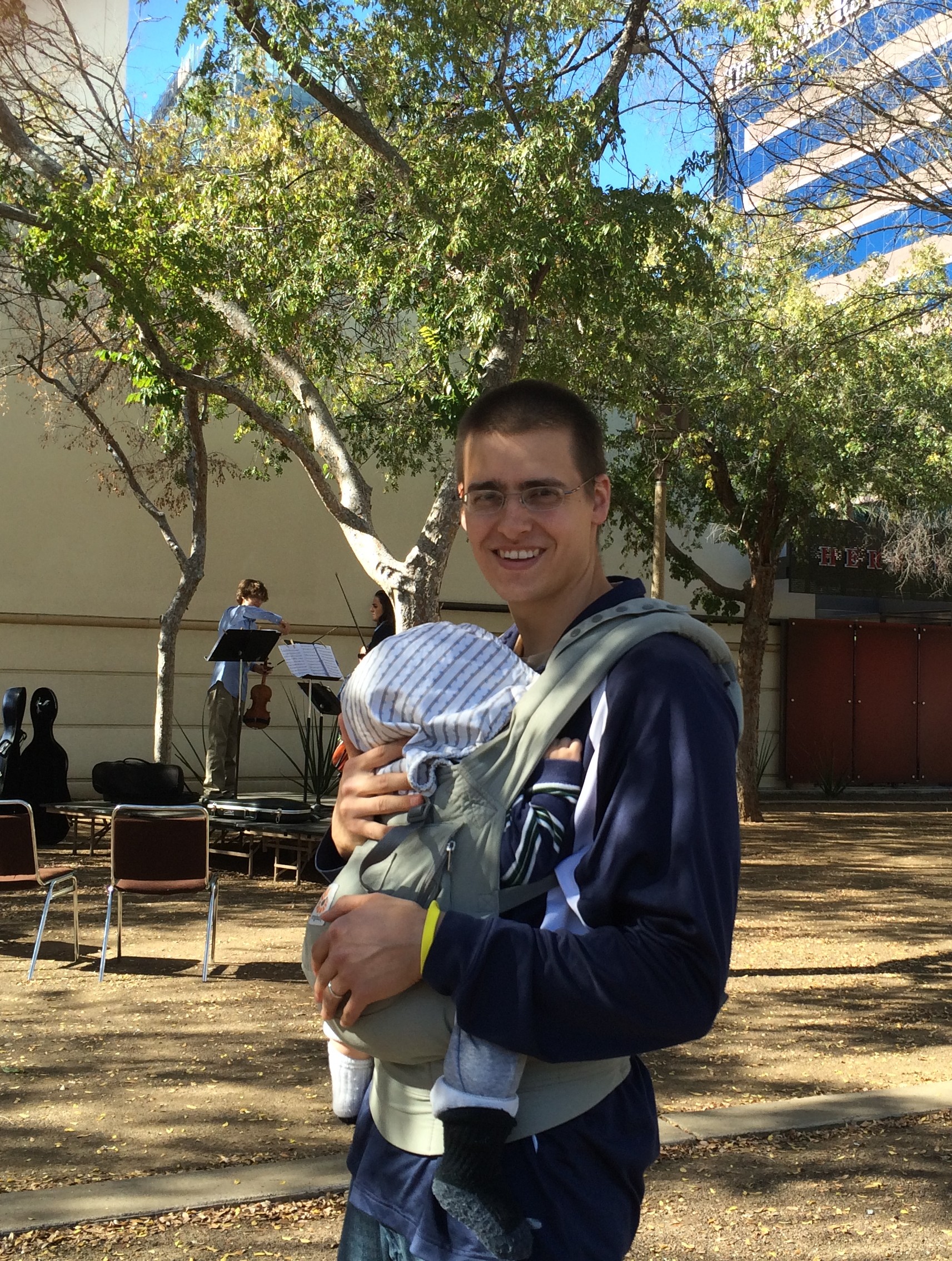 We also met Stephen who was an Iraq veteran looking for $20 to get on the bus to go home to Washington. We thought he might be lying, but gave him the money anyway. Jacob gave him Mother Teresa's reflection "I Thirst" where Jesus speaks to us:
"No matter how far you may wander, no matter how often you forget Me, no matter how many crosses you may bear in this life, there is one thing I want you to always remember, one thing that will never change: I THIRST FOR YOU—just as you are." -Jesus through Mother Teresa
We prayed with Stephen and he was moved to tears. He encountered God's mercy in that moment of prayer as he had trusted in Jesus in his past, but had forgotten His love recently. Thank you Jesus for your merciful love!
Then in the evening Jessie invited her three band member friends over. The band is called "Cafe". We were able to practice our Spanish with them. We also listened to them practice their music a little. They brought coffee and sweet bread that is popular in Mexico to snack on in the evening.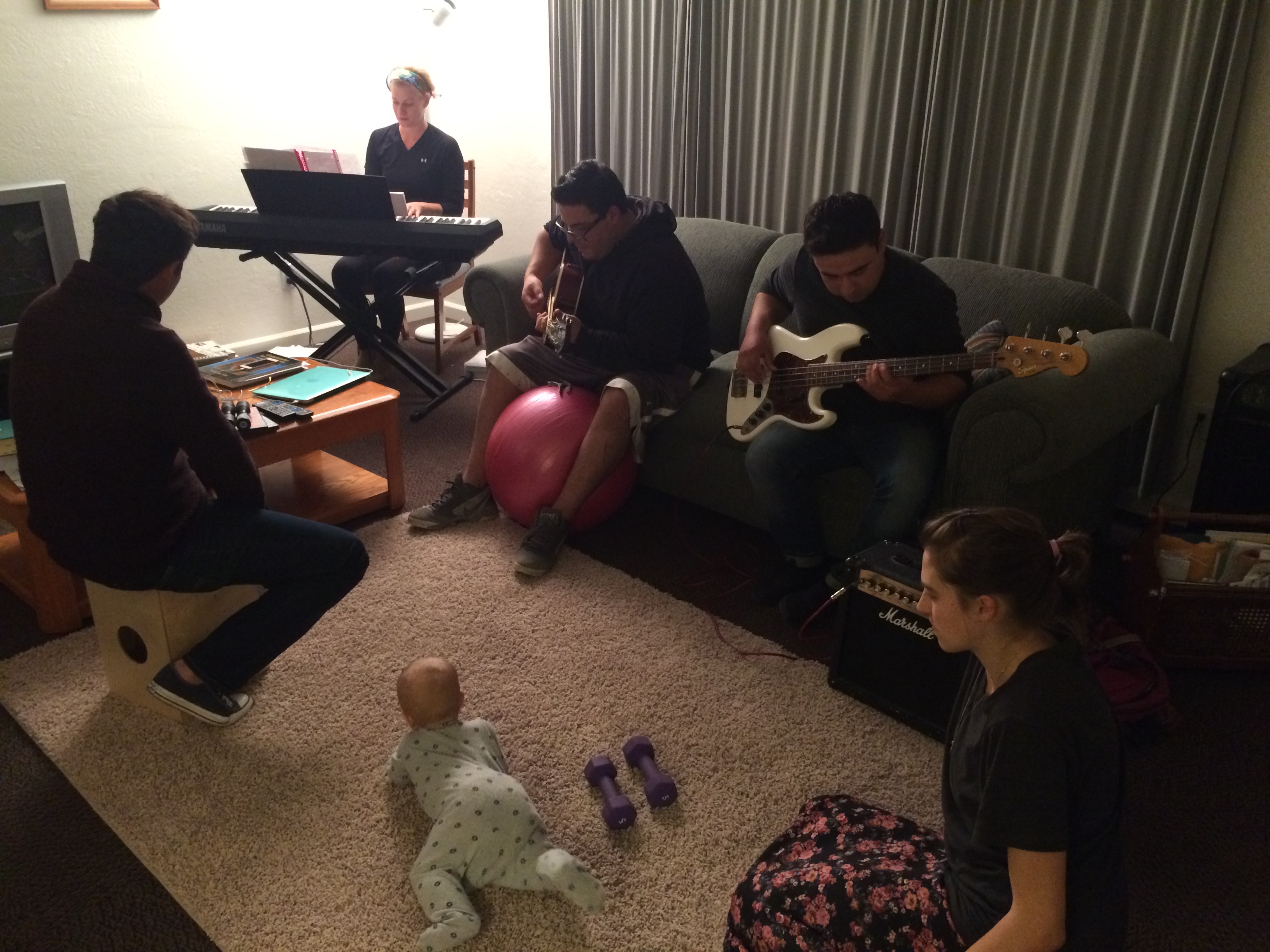 Yesterday we were blessed to go to an all school Mass at Jessie's school and hear their beautiful singing. Blaise is getting more restless sitting at church, but he enjoys to be walked around in back. We were able to speak to her 8th, 7th, and 6th grade religion classes about our journey following Jesus. Jacob led them in prayer through his music. We answered questions like, "What are your favorite sports? What is the hardest thing about being a missionary? How do you entertain Blaise?" Well here is one way we entertain Blaise by reading him Dr. Seuss:
We also workout with him: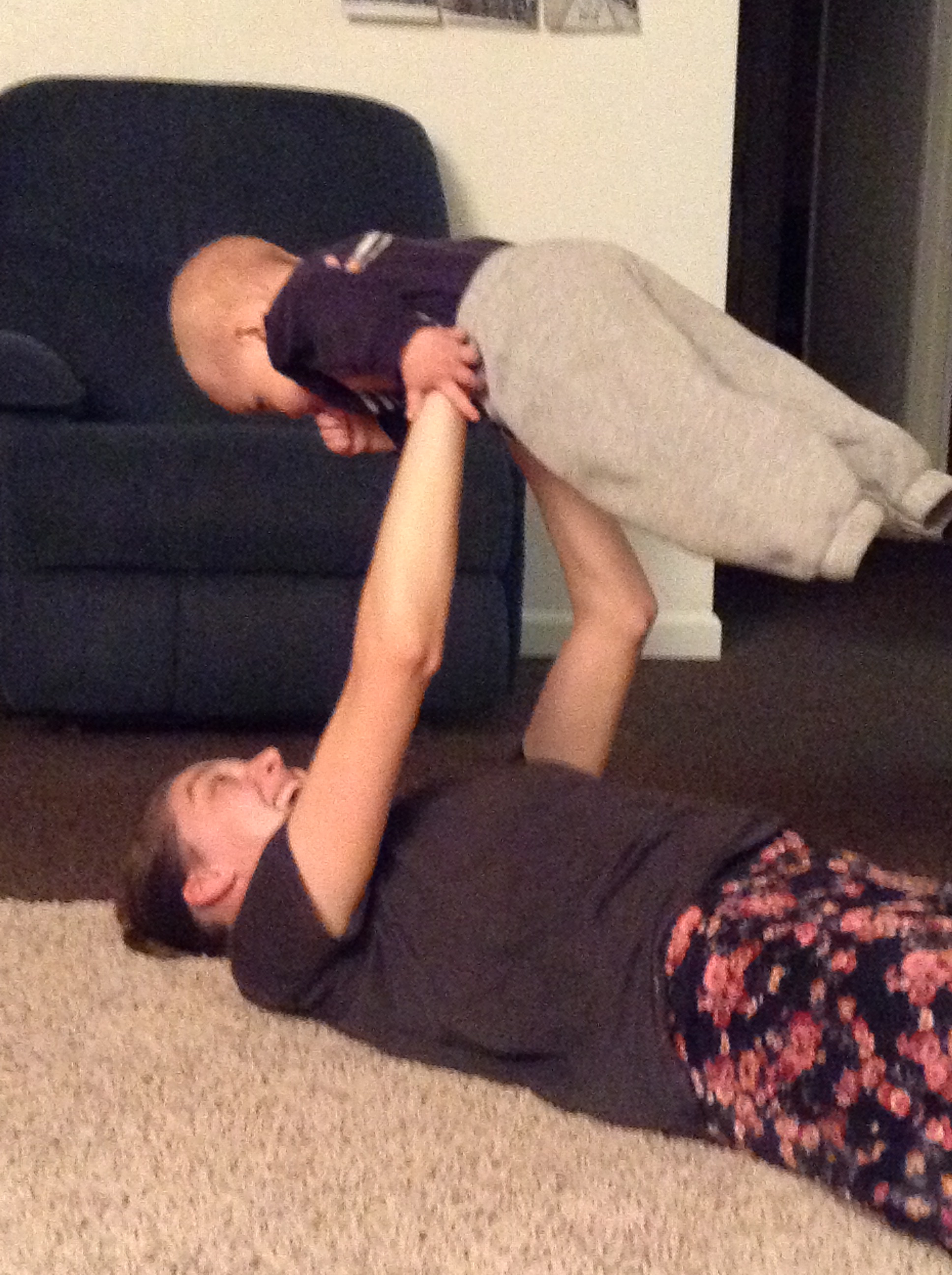 And play him music:
During the 7th grade, Jacob was closing with a prayerful song and Blaise let out some very loud toots/poops. That is pretty much how praying with Blaise goes. You all were great to meet briefly. Thank you for listening to us and loving Blaise!
In the evening we joined the MCs (Missionaries of Charity) to help teach the 3-9 year olds and then the 13-15 year olds. Jacob played them music, told our testimony, and led them in Lectio Divina about the rich young man story. When we started praying with the youngest group, Blaise was raising his hands up and kicking his legs really fast. He was so excited to see them! The sisters then taught them through the Good Shepherd program, which I am learning a little more about. It seems to be really hands on and bearing fruit.
"Jesus said to him, 'Zacchaeus, make haste and come down; for I must stay at your house today.' So he made haste and came down, and received him joyfully." Luke 19:5-6
Another little connection to this scripture I want to end on is also from the Mother Teresa "I Thirst" meditation:
"Whenever you do open the door of your heart, whenever you come close enough, you will hear Me say to you again and again, not in mere human words but in spirit: 'No matter what you have done, I love you for your own sake. Come to Me with your misery and your sins, with your troubles and needs, and with all your longing to be loved. I stand at the door of your heart and knock… Open to Me, for I THIRST FOR YOU."